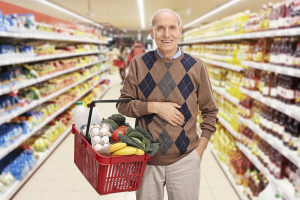 Everyone can agree that we need to eat to live. Buying food and preparing meals is a necessity of life. As we get older, the ability to move around may diminish, let alone our capacity to drive our own personal vehicle. Appetites may decrease and preparing food may become a dreaded chore. Many seniors are independent and are able to drive themselves to the grocery store, while others aren't able to get behind the wheel any longer. Whether someone drives them or they drive themselves, there are helpful food shopping strategies before and while at the grocery store. Since getting to the grocery store may become a challenging dilemma, here are some senior food shopping tips to help your aging loved ones tackle the task of food shopping.
Calling In Help

Hiring a home health agency is one solution to consider. Many agencies allow caregivers to drive either their client's vehicle or their own car to the grocery store. The caregiver can help make a grocery list, get the groceries inside the home and assist with meal preparation. Meals can be portioned and frozen for future use. This option gives seniors a way to keep their independence when they cannot drive and family members do not live locally to take them.

Because health agencies can be expensive, contacting the local Area Agency on Aging is another possibility. They often have volunteer programs that include transportation and helper assistance.
Make a Plan

It's a good idea to plan meals for the week in advance before arriving at the grocery store. Good nutrition is a challenge without the right ingredients. Seniors may also be on a limited budget, so it's important to check flyers for items on sale and plan meals around these items. Coupons and senior discounts may be offered. Many supermarkets offer savings cards. Choose store brands instead of name brands as another way to cut costs.
Go Mobile

For those with mobility issues, shopping at larger chain stores that offer wider aisles to navigate makes shopping easier. Some supermarkets have motorized carts with attached baskets which are ideal for individuals who have limited mobility. Having sufficient staff is another consideration if help is needed getting food from a higher shelf. Ask the bagger not to overload grocery bags with food items.
Focus on Nutrition

To meet nutritional guidelines, carts should be filled with plenty of fruits, vegetables, whole grains, dairy, lean meat, fish, poultry, beans and nuts. Trying new food items will help prevent boredom with items usually purchased week after week. Don't be afraid to ask the butcher to cut meat in smaller portions. They can customize your order, which makes it easier to freeze or prepare food in portions as needed.
For individuals who do not want to leave the home, larger supermarkets may offer online shopping with food delivery options that are ordered from the comfort of home. On the same note, seniors can also choose to order prepared meals online. Prepared meals typically are delivered vacuum sealed and just need to be reheated. This might be a more expensive option, especially with shipping and handling costs.
Getting out of the home, making food choices and having control of purchasing their food helps keep seniors active and independent. Even though they may face new challenges as they age, your loved ones can still take on the task of grocery shopping successfully. We've given you a few strategies to help seniors with food shopping, but if you'd like to learn more or for help with any of your other work-life challenges, log in today.